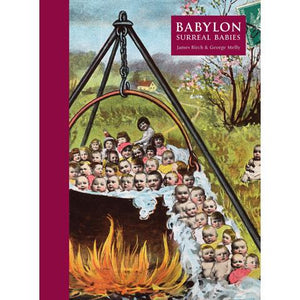 BABYLON
From the collection of James Birch
With an introduction by George Melly


These weird and wonderful postcards show babies as never seen before. Babies hatch from eggs, bubble from cauldrons, are fished from rivers, emerge in the cabbage patch, sit atop clouds, and ride in zeppelins. They play instruments, drive automobiles, fly in balloons, harvest the fields; an anarchistic world of baby heaven.
James Birch first came across the postcards when he was a student in Aix-en-Provence. "A froth of smiling babies boiling away in a cauldron" caught his eye and he bought a small number of cards. He didn't really pay much attention to the cards again until years later in the 1980s when he visited the Pompidou Centre for an exhibition on Surrealism. There in one of the display cases was a collection of fantasy baby postcards shown for their inspirational importance to both the Dadaists and the Surrealists. He became hooked and started collecting.
Despite the immensely varied subject matter of the postcards little is known of their history. They were produced from around 1900-1920 and were found from Russia, to Spain to Great Britain and most countries in between, however the majority appear to be from Germany.
The postcards were a source of inspiration to many artists in the 1920s and 30s, in particular to both the Dadaists and the Surrealists. They were collected by Paul Éluard, André Breton, Salvador Dali, Hannah Höch, Herbert Bayer, and Man Ray. The popular images excited inspiration in these artists because of their boundless inventiveness.
A foreword is written by George Melly whon was an acknowledged expert in the field of surrealism. Best known as a jazz and blues singer, writer and broadcaster, he was also an art critic and a devotee of the Surrealists. This is one of the last pieces he wrote before his death in 2007 at the age of 80.
ISBN: 978-1-904587-85-9
Quarter bound hardback
128 pages, 235mm x 170mm
148 colour photographs