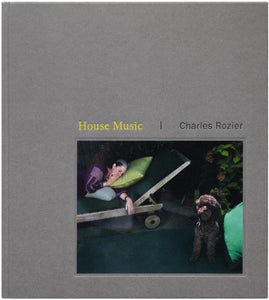 CHARLES ROZIER
Asked what he wished to convey in his poetry, Robert Lowell once said "I want to break your heart." This book is nothing if not heart breaking, heartbreakingly wistful and poignant, heartbreaking in the way that the inexorable passage of time, with its inevitable losses and recuperations, can be heartbreaking.
Spanning almost thirty years, House Music chronicles seemingly quotidian moments in the lives of multiple generations of the photographer's extended family. Training the camera on those closest to him, Charles Rozier brings the sensibility of a street photographer to his own domestic setting. This is a body of work that transcends convention and the particularities of Rozier's own circumstances to create a story that speaks to universal experience.
House Music underscores the uncanny in the everyday, presenting a series of suddenly meaningful tableaux framed by the stage of ordinary surroundings. Circumstance and familiarity have made the photographer invisible – in very few images do we see any recognition of his actions by his subjects – but we are deeply aware of his presence. Though Rozier does not appear in these images, House Music is a self-portrait. It is also a book about beginnings and endings, over a long generation in which everything has changed, including the photographer himself.
Charles Rozier received an MFA in design from the Cranbrook Academy of Art in Michigan, where he also pursued a longstanding interest in photography. Over the next 40 years, in parallel with a design career, he remained committed to his photography and in particular to his ongoing project – this continuous series of unposed portraits of the people around him.The images were first exhibited in 2008, and have since been shown in over 25 exhibitions in the USA, China and Spain. Charles Rozier lives in Connecticut, USA.
Hardback £30.00 / $39.00
124 pages, 28 duotone and 38 colour plates
245mm x 222mm
ISBN: 978-1-911306-55-9
House Music photo book trailer from Charles Rozier on Vimeo.