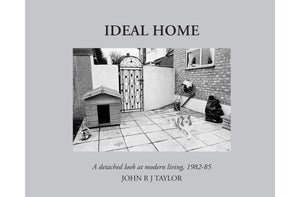 A special limited edition is also available.
JOHN R J TAYLOR
Ideal Home was first published over thirty years ago in 1989. The book quickly began to influence photographers and students as to what was a suitable subject for an image, opening up the possibilities of exploring the ordinary, everyday objects of life in a new way. Once a cult book, it is now considered a 'modern classic'.
Ideal Home is an almost forensic photographic record of his sister's north London suburban house. Working his way methodically around the house, Taylor documented the rooms, table tops, ornaments, interiors of fridges, cupboards, garden – as many aspects of the domestic interior of the home as possible. Mark Haworth-Booth, in the original introduction describes him as 'photographing with the impunity of a blood relative' yet Taylor understood that success hinged on his ability to maintain an objective view. This objectivity is wonderfully juxtaposed with his sister's own comments about the images and the objects that they feature.
This edition includes 16 new photographs in addition to the original 37. It also includes the original texts by Mark Haworth-Booth and Charles Newton as well as a new text by Alex Schneideman.
John Taylor was born in Buckie, in the north east of Scotland, in 1958. His father was a local photojournalist and, after initially studying art in Dundee at Duncan of Jordanstone College of Art, Taylor began increasingly to photograph and went on to study for a Masters in Fine Art and Photography at the Royal College of Art. His work has featured in many publciations and exhibitions and is in several collections including the Victoria and Albert Museum.
$42.00 hardback
120 pages, 53 duotone plates
225mm x 285mm
ISBN: 978-1-911306-84-9
A special limited edition is also available. 
This includes the book and a signed and numbered 10" x 8" silver gelatin print of the image above, 'Light bulb'. The edition is limited to 30 copies and priced at £150 as the initial launch price. The special edition will be shipped form our UK office.