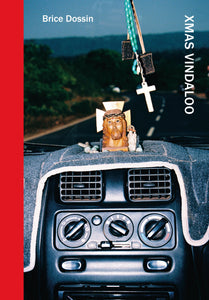 Orders now accepted - shipping from November 24th
BRICE DOSSIN
Christmas time in Goa – a small Christian enclave on India's southwest coast, with a sulphurous reputation. A Portuguese colony until 1961, when it was annexed by india, Goa gained fame for its hosting of hippie communities in the 1960s; it was the end point of the hippie trail. 

In the 1990s Goa became the trance music capital of the world and while Indian and international tourists still come to party until they drop, local people celebrate Christmas in a vivid way with displays and decorations everywhere. A quarter of the local population are still Christian.

At this time of year, Goa is an unlikely gathering of retired hippies, trance music lovers, Indian tourists, baba cools, undomesticated cows and stray dogs, mixed with a hint of the local spice (vindaloo is a typical Goan cuisine).

During his time in this seaside location like no other, Brice Dossin came across Jesus, more than once, dozens of Santa Clauses, chilled out sacred cows, crazed looking dogs, tattooed ravers, moustache-wearing dreamers, swirling stoners, colourful jugglers, yoga masters, levitating mystics, selfie bombers, many amazing sunsets and an uncanny Hercules. Enjoy his Christmas tale under the sun. 

£25.00 UK / $35.00 USA / €30.00
Quarter-bound hardback
128 pages, 102 colour photographs
240mm x 165mm
ISBN: 978-1-911306-66-5