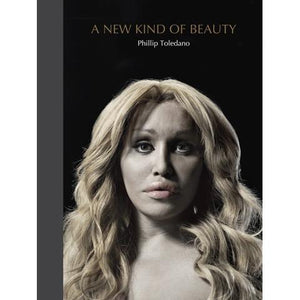 PHILLIP TOLEDANO
Afterword by W.M. Hunt


Phillip Toledano believes that we are at the vanguard of a period of human-induced evolution. A turning point in history where we are beginning to define not only our own concept of beauty, but of physicality itself. Beauty has always been a currency, and now that we finally have the technological means to mint our own, what choices do we make?
Is beauty informed by contemporary culture? By history? Or is it defined by the surgeon's hand?
When we re-make ourselves, are we revealing our true character, or are we stripping away our very identity?
Phillip Toledano was born in 1968, in London to a French Moroccan mother, and an American father. His work is primarily socio-political, and varies in medium, from photography to installation. His installation project, 'America, the gift shop', was shown at the Center for Photography at Woodstock. The premise: If George Bush's foreign policy had a souvenir shop, what would it sell? Toledano has published three previous books: Bankrupt (Photographs of recently vacated offices) published by Twin Palms in 2005, Phonesex (Twin Palms, 2008), and Days With My Father (Chronicle, 2010). His work has appeared in Vanity Fair, The New York Times Magazine, The New Yorker, Harpers, Esquire, GQ, Wallpaper, The London Times, The Independent Magazine, Le Monde, and Interview magazine, amongst others.
W.M.Hunt is a photography collector, curator and consultant who lives and works in New York. Founding partner of the prominent photography gallery Hasted Hunt (now Hasted Kraeutler) in Chelsea, Manhattan, and former director of photography at Ricco/Maresca gallery, Hunt has been collecting photography for over 35 years. His recent book The Unseen Eye (Aperture, Thames & Hudson, Actes Sud) focuses on Collection Dancing Bear, currently his largest collection of photographs.
ISBN: 978-1-907893-10-0
Quarter bound hardback
64 pages, 375mm x 270mm
28 colour plates
ALSO
The Reluctant Father
When I was six (currently only available via our UK site: www.dewilewis.com)