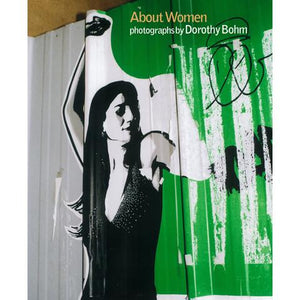 Currently out of stock - copies expected back in stock early September
DOROTHY BOHM
"I think of women as the most natural subjects for me, in two senses. Firstly, because women often express more in their faces, and are less inhibited in showing emotion. Then because being a woman has been a great advantage to me personally in being a photographer. Women subjects are less threatened by a woman, so it is easier for me to approach them without seeming intimidating. I can win their trust, move in closer."

About Women is Dorothy Bohm's first book to focus exclusively on the subject of women. Taken throughout the world, from the late 1940s until the present day, her photographs range from images of ordinary women going about their everyday activities, to explorations of the role that representations of women, in the form of advertisements, posters and mannequins, play in contemporary westernised society. The photographs, many of which are previously unpublished, are complemented by an insightful foreword by novelist Marika Cobbold and an informative essay, based on conversations with Dorothy Bohm, by photography curator and historian Amanda Hopkinson.
Dorothy Bohm was born in Königsberg, East Prussia in 1924 and came to England as a refugee from Nazism in 1939. After studying photography in Manchester she opened her own portrait studio in the city at the age of 21. In the late 1940s a visit to Switzerland prompted her to work outside the studio, and by the late 1950s she had abandoned studio portraiture for street photography, working in black and white until the early 1980s before moving totally to colour. Her first exhibition, People at Peace, was held at the ICA, London, in 1969, and her first book, A World Observed was published in 1970. Closely involved in the founding of the Photographers' Gallery in the early 1970s, she was elected an Honorary Fellow of the Royal Photographic Society in 2009. With numerous exhibitions and publications to her name, Dorothy Bohm is widely regarded as one of the doyennes of British photography.
£30.00 hardback
152 pages, 142 b&w and colour photographs
300mm x 240mm
ISBN: 978-1-907893-81-0