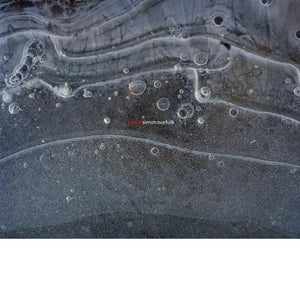 SIMON NORFOLK
A haunting and beautiful limited edition book from the  internationally respected photographer, Simon Norfolk.
This is a very special publication. Published as a slip-cased hardback, the page size is a massive 400mm x 320mm. It is printed on extra weight 200gsm paper, and incorporates matt and gloss varnishes. It includes 24 colour plates.
The war in Bosnia in the 1990s raised to common currency the terms 'ethnic cleansing,' and 'humanitarian intervention'. It brought back to Europe a barbarism not seen since the Second World War; and was the first war fought very much under the eyes of the media. It was also the first conflict fought by killers who knew, even before the war had finished, that a war crimes tribunal awaited them.
Norfolk's photographs initially appear almost abstract. Yet through these still and beautiful images of ice, water, snow and the land, we can sense the arrogance of killers who believed they could conceal the brutal evidence of their crimes by reburying their victims in 'secondary' graves. But over time secrets escape, and the truth bleeds out.
Winner of the 2002 European Publishers' Award for Photography, Simon Norfolk won the Olivier Rebbot Award (Foreign Press Association of America) in 2003 and was shortlisted for the CitiBank Prize. In 2004 he received a prestigious International Centre of Photography Infinity Award, and the Terence Donovan Award from the Royal Photographic Society. Already in 2005 he has received the Association of Photographers'Bursary Award, and been nominated for the Arles Outreach Award.
ISBN: 1-904587-19-4
slipcased hardback
400mm x 320mm, 64 pages