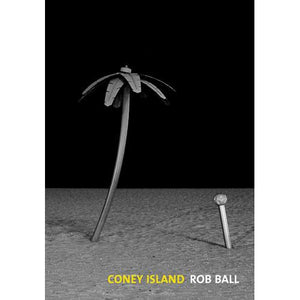 ROB BALL
with an essay by DR. MARK RAWLINSON
Between around 1880 and World War II, Coney Island was the largest amusement area in the United States attracting several million visitors each year. At its height, three enormous amusement parks – Luna Park, Dreamland, and Steeplechase Park – competed for visitors with the latest thrills and spills. Consequently Coney Island became a focus for the latest technological innovation, with electric lights, roller coasters, and even baby incubators appearing there in the 1900s.
Rob Ball explores Coney Island to tell a story of a resort rich in history and with a special cultural significance for many New Yorkers. Ball articulates this historical context through the use of the handmade and unpredictable tintype process, once widely used in Coney Island. This is balanced by his colour work documenting the area's current diversity and popularity, with images made during the busy summer period.
For Ball, this is part of long-term photographic project engaging with the history of coastal resorts and their cyclical rise and fall in popularity. It is also a sequel to his previous book, Dreamlands, that looked at the popular amusement park in Margate. As with Margate, Coney Island in Brooklyn has undergone a period of repair after years of neglect and this is reflected in the work.
Rob Ball is Deputy Director of SEAS Photography and Senior Lecturer at Canterbury Christ Church University, UK. His projects have been published and exhibited worldwide including at The Photographers' Gallery, London; Format Festival, Derby; Illinois State University, USA; and the Sidney Cooper Gallery, Canterbury. His work is in the permanent collections of University of the Arts and The National Portrait Gallery. Previous publications include Unremarkable Stories (2012), Dreamlands (2015) and Morgues (2017).
96 pages hardback 
210mm x 280mm
ISBN: 978-1-911306-13-9