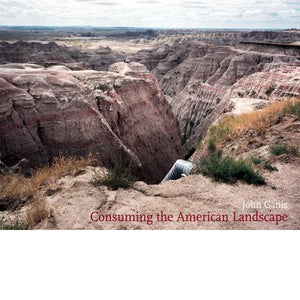 JOHN GANIS
Introduction: Robert Sobieszek 
Afterword: George Thompson
Poems: Stanley Diamond


John Ganis has chronicled the effects of the development and extraction industries in every region of the United States over a period of 17 years – desolate strip mines, clear-cut forests, industrial parks, landfill sites and terrains flattened for housing developments. These are disturbing images – a thesaurus of America's 'civilized' incursions into the wildness of nature, a charting of debris-strewn topographies, and a cogent report on the abdication of any reverence towards the land.
As Robert Sobieszek observes in his introduction, Ganis's photographs are striking in their unexpected combination of critical satire and romantic longing. He challenges his audience to reconsider their notions of 'landscape' in the light of current land use practices. Elements of both the picturesque and the rustic mediate between the idyllic and the apocalyptic, suggesting, ironically perhaps, that such scenes may yet be accompanied by romantic associations. In particular, Ganis's work is really about the edge, the margin that separates the uncultivated from the over-farmed, the pastoral garden from the bleak wasteland, the 'natural' from the cultured, the past from the present.
In his introductory essay Robert Sobieszek, of the Los Angeles County Museum of Art, gives an overview of the historical responses to the American landscape and contextualising the work. Poems that resulted from a collaboration between Ganis and the late anthropologist and poet Stanley Diamond add a further dimension. There is also an Afterword by George Thompson, Director of The Center for American Places.
John Ganis was born in Chicago in 1951. After University he moved to New York and studied with Larry Fink and Lisette Model. He received his M.F.A. in photography from the University of Arizona where he studied with Harold Jones, Todd Walker and W. Eugene Smith. His photographs of land use in America have been exhibited widely and are in the collections of the Brooklyn Museum of Art, The Center for Creative Photography, The Detroit Institute of Arts, and The San Francisco Museum of Modern Art. 
ISBN: 1-904587-00-3
Hardback, 144 pages 
86 colour plates, 320mm x 245mm