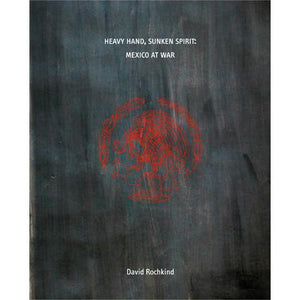 DAVID ROCHKIND
Over the past six years Mexico has been consumed by a brutal conflict – more than 35,000 people have been killed and kidnappings have skyrocketed.

After barely winning Mexico's 2006 presidential election, Felipe Calderon escalated the battle against the country's drug cartels in an attempt to marginalise the deadly gangs and the corrupt politicians and police officers who enable them. The cartels are ruthless, meting out an awesome brutality where heads are rolled into crowded discos and dismembered bodies are abandoned on busy streets. The gruesome nature of the crimes is at once unbearable and on display for the entire country to see.

The narrative of Mexico's conflict is often reduced to the bodycount on the border, but the offensive against the cartels has caused an eruption of violence that is not isolated to one region. The wounds of this war bleed into every corner of the country, staining the very fabric of Mexican life with violence, death and fear.

In Heavy Hand, Sunken Spirit, David Rochkind moves beyond simple depictions of carnage to explore the stress and tension left in the wake of such violence and to illustrate how this conflict will impact on and handicap Mexico's future.

An award-winning American photographer, David Rochkind has been based in Latin America for the last ten years, first in Venezuela and most recently in Mexico. His work is both beautiful and uncomfortable and his goal is to create images that present difficult issues to the audience in a way that is accessible.

ISBN: 978-1-907893-24-7
Hardback, 144 pages, 90 colour plates
310mm x 247mm