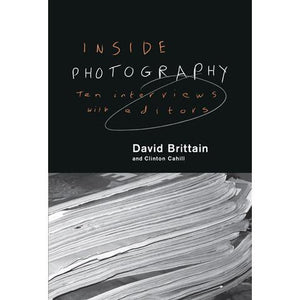 DAVID BRITTAIN & CLINTON CAHILL
Inside Photography, a collaboration between the writer/editor, David Brittain and graphic artist, Clinton Cahill, is a book of interviews that sheds light on the art photography magazine. Inciteful and often irreverent, the book demonstrates how this critically overlooked type of publication can be an invaluable resource for creative and historical investigations.
David Brittain has been active in photography as a curator, critic, lecturer and as editor of the respected international magazine 'Creative Camera' (1991-2001). He has contributed to a wide range of publications and has been involved in the production of various documentaries for BBC TV programmes such as 'The Late Show' and the 'Decisive Moments' series. In 2000 his anthology of writings, Creative Camera: 30 years of Writing was published by Manchester University Press.
In 2002 David was awarded an AHRC Fellowship in the Creative and Performing Arts to research the subject of photography and the self-published magazine. This book of interviews forms part of the extensive research that he has undertaken over the period.
Clinton Cahill is an artist, designer and educator based at the Manchester School of Art. His creative practice encompasses painting, graphic design and illustration, with a particular research interest in the relationships between text, illustration and the phenomenology of the image which is focused on a long-term study of visuality of James Joyce's 'Finnegans Wake'. Clinton's illustrated blog 'Illuminating the Wake' has become a regular feature on the website of the James Joyce Centre, Dublin.
Softback, 160pages
235mm x 155mm
ISBN: 978-1-907893-36-0

Published with the support of Manchester Metropolitan University