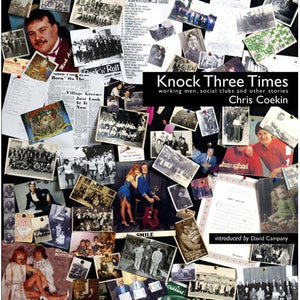 CHRIS COEKIN
introduced by David Campany


Working Men's Clubs were originally set up for the support and education of the working man. Many clubs have long since disappeared, though there are still six million UK members.
As a child, Chris Coekin visited clubs with his parents, both in his home town of Leicester and, on family holidays, around England. Knock Three Times is set in the Acomb WMC York which Chris first photographed in 1996.
Through photographs and archive material, Coekin explores the cultural roots and identity of the Working Men's Club and examines the complexity of working class culture, as well as ideas of masculinity, relationships and the work ethic.
Chris Coekin was born in Leicester. He worked in the building trade until his early twenties before studying photography. His work has appeared in many magazines including The Guardian, The Observer, The Telegraph, The Times, and Dazed & Confused. The recipient of various awards including a David Hodge Award, his work has been exhibited widely, including the Photographers Gallery, London.
ISBN: 1-904587-28-3
Hardback, 60 colour photographs
96 pages, 247mm x 247mm