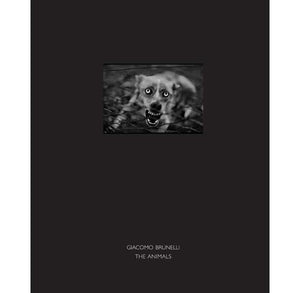 GIACOMO BRUNELLI
Foreword by Alison Nordström
Giacomo Brunelli's first book, The Animals, was published by us in 2008 to great critical acclaim. After being out of print for several years a new edition is now available. It includes an additional eight images to the first edition.
"Giacomo Brunelli has been looking hard at animals. His focus is not on the framed and caged exotica of zoos but on the ordinary animals that remain with us to some extent: horses, dogs, cats, chickens, pigeons. He shows us a fox, looking sharply at the camera and poised to flee, and there are numerous birds, a snake and several toads, but this wildness is small and fragile, living in the familiar liminal space where manmade and natural meet and overlap. His animals inhabit farmyards, cobbled streets and the façades of stone buildings. There are no tigers here.
Brunelli's animals are often composed only of suggestive fragments. His spare black and white images are attuned to the nuances of a moving mane, a silhouetted whisker, a highlighted, almost illuminated wing. He favours the profile and the counterintuitive angle, setting dark unobservable features against dark undiscernable backgrounds. A dead mouse, on its back, paws in air beside an oversized flower against a stark and distant mountain is no more or less frozen in time than is the growling dog, eyes alight and teeth forever bared; both are icons of states we fear but cannot know. These pictures are timeless and uncanny, powerful in their ordinariness, and emotionally much bigger than their simple subjects."
Alison Nordström.
ISBN: 978-1-911306-08-5
Hardback, clothbound
72 pages, 41 tritone photographs