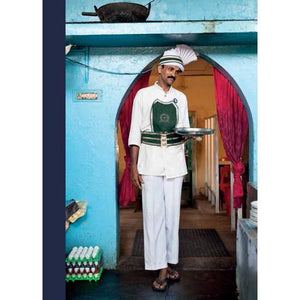 STUART FREEDMAN 

Introduced by AMIT CHAUDHURI 

The Palaces of Memory is a journey into India through the Indian Coffee Houses, a national network of worker-owned cafés which can be found in cities throughout the sub-continent. The Coffee Houses simultaneously speak of a Post-Independence optimism and a now-faded grandeur. Buried deep within the country's collective memory they have for decades acted simultaneously as political and artistic salons as well as simple eating places.
Stuart Freedman has visited more than thirty of the most significant and beautiful Coffee Houses throughout India. Away from the stereotypes of poverty and exotica they have allowed him to enter an 'ordinary' India, a familiar but distant echo of the long disappeared greasy-spoon cafes of the London of his own youth. In that sense, the Coffee Houses have become a familiar sanctuary for him during his time in India.
A photographer and writer, Freedman is based between London and New Delhi. A member of Panos Pictures, he has, over more than two decades, covered stories from Albania to Zambia and his work has featured internationally including in Life, Geo, Time, Der Spiegel, Newsweek, The Sunday Times Magazine, Paris Match, Smithsonian, Condé Nast Traveller. In his essay for the book he presents his experience of the coffee houses as well as providing a fascinating insight into their history.
Born in India, Amit Chaudhuri has written numerous novels, short stories, poems and critical essays. He has won several major awards and has received international critical acclaim. In 2002 he was awarded India's highest literary honour, the Sahitya Akademi Award, for his novel A New World. He is currently Professor of Contemporary Literature at the University of East Anglia.
Hardback, three-quarter cloth bound
225mm x 164mm 224 pages, 125 colour plates
ISBN: 978-1-907893-78-0