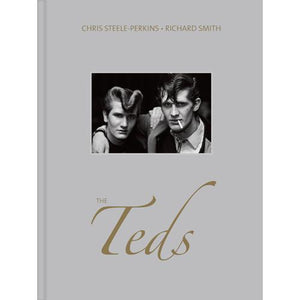 CHRIS STEELE-PERKINS 


& RICHARD SMITH
1956, sixty years ago, was a watershed year for Teds. In September that year the Bill Haley film Rock Around The Clock arrived in the UK. With five records in the top twenty, Haley was a major star and the film screened at some three hundred cinemas across the country. It wasn't long before the riots started. At London's Elephant and Castle Trocadero seats were slashed, and when the police attempted to disperse a throng of jiving, singing teenagers, bottles and fireworks were thrown; four shop windows were smashed. Two police were injured and nine Teds arrested. There was further trouble in many other cities including Manchester and London whilst in Birmingham, Blackpool, and Belfast the film was banned.
Whilst the appearance of Teds can be traced back a couple of years earlier, 1956 was the true 'Year of The Ted' – the year in which they became central to youth culture in the UK and could no longer be ignored.
Originally published in 1979 The Teds looks at this phenomenon. A classic of British documentary photography, it is a vivid and absorbing book combining image and text to tell a fascinating story that spans some three decades.
Chris Steele-Perkins joined Magnum Photos in 1979. An award-winning photographer, he exhibits regularly throughout the world and continues to publish in major magazines worldwide. Alongside extensive work in the developing world he has continued to document Britain, with his 40 year overview, England, my England, being published in 2009 and A Place in the Country, his tenth book, which was published by Dewi Lewis in 2014. 
ISBN: 978-1-911306-05-4
Hardback, 128 pages
72 duotone photographs
290mm x 220mm