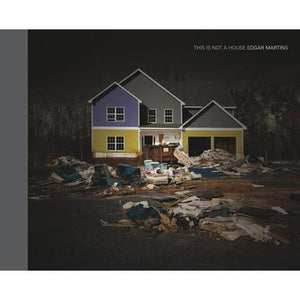 EDGAR MARTINS
Essays by Sacha Craddock, Peter D.Osborne


The US subprime mortgage crisis, which had its roots in the closing years of the twentieth century, exposed pervasive weaknesses in the regulation of the financial industry and the global financial system. At the end of 2008, as the fall-out from the crisis became increasingly widely felt, Edgar Martins was commissioned by the New York Times Magazine to photograph across the US in eight separate states and across sixteen different locations. These carefully researched sites exposed the extent and impact of the crisis on the US construction industry.
Martins approached the project as a photographic intervention into a crisis and the resulting images go beyond pure formal investigation or documentation. His interest lay in summoning a disquieting conjunction of realism and fiction by 'cutting into the real'. As the writer Jacques Ranciére states, the real can only be unravelled and understood if it is first fictionalised. And so the real must be transformed to be understood. The houses depicted in this series do not refer to just the particular. They are images of spatial assemblages, of kinds of stages on which a number of quite different (and perhaps incompatible) narratives might be enacted. These images, these houses, these ruins, reflect back at us the human constructs that we project and impose on them.
This Is Not A House emerges precisely at that juncture where clear words falter, where language is disturbed. The meaning of the world is no longer carried on its surface, if indeed it ever was.
Internationally recognised, Edgar Martins has won several awards for his work including Portugal's BES Photography Award, The UK's National Media Museum Terry O'Neil Award, and a Jerwood Photography Prize. He has exhibited throughout Europe and the United States and has published several books, the two most recent being Topologies, (Aperture), and When Light Casts No Shadow, (Dewi Lewis Publishing).
ISBN: 978-1-907893-02-5
Quarter bound hardback
108 pages, 265mm x 335mm
65 colour photographs