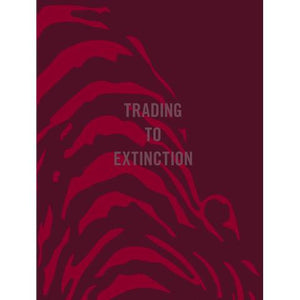 American Photography, Best Photobooks of 2014
PATRICK BROWN
Introduced by Ben Davies

Published to coincide with the Global Summit on illegal wildlife trade to be hosted by David Cameron in London in February 2014, Trading to Extinction is a unique and devastating record of this tragic industry. 
The book explores the sad truths behind this multi billion-dollar industry and is one of the most comprehens-ive photographic documents on the wildlife trade, spanning more than 10 years and offering a rare view into this illicit business. It is a shocking tale of cruelty, crime and human greed. This is an industry which, like the drugs trade, is fuelled by money, and whose tentacles encircle the world, from the remote forests of Asia to the trafficking hubs of Beijing, Bangkok, London, Tokyo and New York.
A poacher who kills a rhino and removes its horn in India gets $350. That same horn sells for $1,000 in a nearby market town. By the time it reaches Hong Kong, Beijing or the Middle East, the horn is worth $60,000 per kilogram, rivalling the street value of cocaine, and even the price of gold. Tiger bones are worth up to $700 per kilo. Meanwhile the price of ivory is increasing so rapidly that some people are buying it as an investment commodity. The numbers are truly staggering.
Trading to Extinction is a unique visual record through powerful black and white photographs by Patrick Brown, which is accompanied by a personal introduction by Ben Davies. The book takes the reader on a first hand journey into the seedy world of the illegal animal trade and its gruesome pursuit of profit, as well as describing international efforts to stop it.
PatrIck Brown is the recipient of the 3P Photographer Award, World Press Award, Days Japan Award, Picture Of The Year Award, New York Photographic Book Award and NPPA's Best of Photojournalism Award. His work has been exhibited at prestigious galleries and museums, including the International Center of Photography in New York, the Metropolitan Museum of Photography in Tokyo, and Visa pour l'Image in France. Patrick is represented by Panos Pictures and continues to cover social issues that are often forgotten by the mainstream media today. 
Ben Davies is a Bangkok-based journalist and photographer whose work has appeared in a wide range of distinguished publications including the International Herald Tribune, the London Telegraph, the Guardian, the Wall Street Journal, Vogue and the BBC. He is the author of Black Market: Inside the Endangered Species Trade in Asia, which documents the multi-billion dollar trade in rare wild animals. Amongst his other books, he has written and photographed Living with Spirits: A Journey into the Heart of Thailand, Laos: A Journey Beyond the Mekong and Pangasinan: A Journey into the Philippines.
ISBN: 978-1-907893-51-3 
300mm x 225mm
168 pages, 115 duotone photographs, 
with extensive texts.