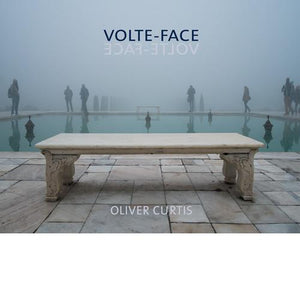 OLIVER CURTIS

 
afterword by GEOFF DYER 
On visiting the Pyramids of Giza in Cairo in 2012, Oliver Curtis turned and looked back in the direction he had come from. What he saw fascinated him so much that he has since made a point of turning his back on some of world's most photographed monuments and historic sites, looking at their counter-views and forgotten faces.
Curtis comments, "I found myself looking back in the direction I had arrived from, with the pyramid behind me. Under a veil of smog lay the city of Giza. Immediately in front of me the sand of the desert was adorned with an assortment of human detritus; litter, pieces of rusted metal, a large rubber washer and a torn hessian sack. Then, in the mid-distance I saw a newly constructed golf course, its fairways an intense green under the late morning sun. This visual sandwich of contrasting colour, texture and form was intriguing not least because of the oddness of my position; standing at one of the great wonders of the world facing the 'wrong' way."
Taken over a period of four years, Volte-Face is an invitation to turn around and see a new aspect of the over-photographed sites of the world – to gaze elsewhere and to favour the incidental over the monumental. Much of what is seen when one turns away may initially seem mundane, the antithesis of the famous construction. These landscapes are in every sense over-looked. They emit a quiet history and a subtle narrative. It is easy to forget that these attractions are also places of work, staffed by janitors, security guards, cleaners and office guards, who have a lack of awe born from daily exposure. Yet despite the landmarks not being present, the images are still suffused with their aura.

Oliver Curtis studied film and television at the LCP and has balanced work in stills and the moving image ever since. A renowned cinematographer, he has shot feature films as diverse as Clare Kilner's The Wedding Date, Frank Oz's Death At A Funeral and Joanna Hogg's Unrelated as well as experimental gallery-based installations.
Geoff Dyer is the author of four novels and seven books of non-fiction, which have won numerous literary awards and been translated into 24 languages. He has been described as "one of our greatest living critics, not of the arts but of life itself, and one of our most original writers."
Hardback with dust jacket
96 pages 44 colour plates
235mm x 305mm
ISBN: 978-1-911306-04-7