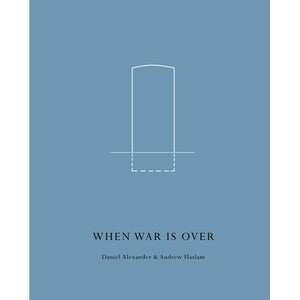 DANIEL ALEXANDER
& ANDREW HASLAM
1.7 million Commonwealth War dead from the First and Second World Wars are commemorated individually and by name, on graves and memorials in 153 countries throughout the world. The Commonwealth War Graves Commission maintains these – 2,500 cemeteries, 21,000 other burial grounds and 200 memorials to the missing.
This involves an international industry of administrators, quarrymen, stone cutters and gardeners. They respond to queries from relatives, update records, tend to the landscape and repair or replace worn and damaged headstones – each year some 22,000 are replaced. This ongoing maintenance has created a form of living memorial, which continually regenerates.
When War is Over investigates this through archival material and through photographs of the maintenance and construction process. Aerial satellite images of the cemeteries emphasize the monumental scale of death and the world wide reach of these sites of commemoration. Alexander avoids the familiar and the sentimental in order to investigate contemporary ideas of permanence, process and ongoing commemoration. The photographs and the design of the book emphasize the inherent tension in the Commission's aim to commemorate the individual through the uniform treatment of the many.
Daniel Alexander is a London based photographer. Combining design and photography his work has been published in several books and has been exhibited at the Wellcome Collection, The Imperial War Museum, The Science Museum and the Charité. He is currently Course director of Photography at London South Bank University.
Andrew Haslam is a designer and writer whose previous publications include Type and Typography, Book Design and Lettering: A Reference Manual of Techniques. He is Associate Head of the Design School, Kingston School of Art, Kingston University.
Clothbound hardback
164pp, 290mm x 212mm
ISBN: 978-1-907893-83-4