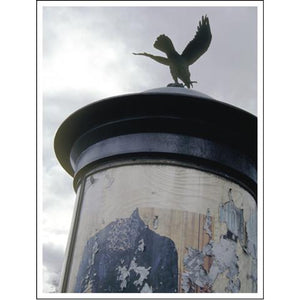 HARVEY BENGE
You Won't Be With Me Tomorrow is a sequel to the narrative Harvey Benge developed in his 2013 book, Some Things You Should Have Told Me.
Both deal with the pain of relationship, the seeming inevitability of separation and the mistrust that is its consequence. Women drift, lost and hostile, throughout the pages – they're masked or veiled; they stare from behind bars – sometimes metal, sometimes frail as gauze, or turn away, eyes averted. They are beautiful but isolated – the time for reconciliation has long passed. This isolation is reinforced by a sense of eroticised cruelty – on one page, a woman plucks out her tongue, on another she thrusts it through a ghostlike paper mask, its tip counterpointed by a single red nail. Bodies are branded, bandaged, broken; they're both scarred and vulnerable. A vibrant red apple declares multiple allusions – beauty, knowledge, temptation, betrayal. Benge's visual vocabulary is typically elusive, but in You Won't Be With Me Tomorrow he seems to examine a larger narrative. A young man is behind bars; a few pages later, stares at himself in a mirror in front of a closed door. A young boy puts his arm around a girl. They look beyond the frame at something troubling.
And yet…within Benge's work, there is always unexpected beauty. Hope even. Amongst images of empty rotundas, retreating figures and vanishing planes, a closed door has panes of light, sunlight falls across a track. It's as if Benge, while chronicling the pain of connection, also suggests subtle ways forward: a wooden X beneath a bush may mean stop; it may also be a kiss.
New Zealander, Harvey Benge works in Auckland and Paris. Well known for his many photobooks, You Won't Be With Me Tomorrow is his sixth book published by Dewi Lewis. He has also exhibited his work extensively in both public and private galleries in Britain, throughout Europe, and in New Zealand.
Hardback, 88 pages,
221mm x 170mm 68 colour photographs
ISBN: 978-1-907893-65-0